Metal hexagonal pillar screws
have a wide range of applications across various industries. These screws are typically used to create space or separation between two components while providing stability and support. Some common applications for metal hexagonal pillar screws include:
Electronics and PCB Assembly: Metal hexagonal pillar screws are frequently used to mount printed circuit boards (PCBs) to chassis or enclosures. They help to maintain a specific distance between the PCB and the enclosure, provide electrical insulation, and offer mechanical support.
Computer Hardware: In computer assembly, these screws are used to secure components like motherboards, hard drives, and expansion cards. They provide structural support and help maintain proper alignment.
Electrical Panels: Hexagonal pillar screws are used to mount electrical components and panels within control cabinets and electrical enclosures, ensuring proper spacing and organization.
Automotive Industry: In the automotive sector, these screws can be used to secure various components, including sensors, control modules, and circuit boards, within the vehicle's interior or engine bay.
Aerospace: Aerospace applications often require high-strength and lightweight materials. Hexagonal pillar screws can be used to secure components in aircraft, satellites, and other aerospace systems.
Telecommunications: In the telecommunications industry, these screws are employed to mount networking equipment, such as routers, switches, and patch panels, inside enclosures or on racks.
Medical Devices: Hexagonal pillar screws can be found in medical devices, where precision and cleanliness are critical. They are used to secure components in devices like medical imaging equipment, surgical instruments, and diagnostic devices.
Industrial Machinery: In industrial settings, these screws are used for mounting control panels, sensors, and various components in manufacturing and automation equipment.
DIY and Prototyping: Makers, hobbyists, and product designers often use hexagonal pillar screws in DIY projects and prototypes to create custom enclosures, secure components, and achieve precise spacing.
Lighting Fixtures: In the lighting industry, these screws are used to secure LED boards, drivers, and other components within lighting fixtures and assemblies.
Consumer Electronics: Hexagonal pillar screws are used in consumer electronics like laptops, smartphones, and gaming consoles to secure internal components and maintain proper spacing.
Robotics: In robotics applications, these screws help secure control boards, sensors, and other components within robotic systems, maintaining structural integrity and proper alignment.
Automated Manufacturing: In automated assembly lines,
hexagonal pillar screws
are used to mount sensors, cameras, and other equipment in fixed positions for quality control and monitoring purposes.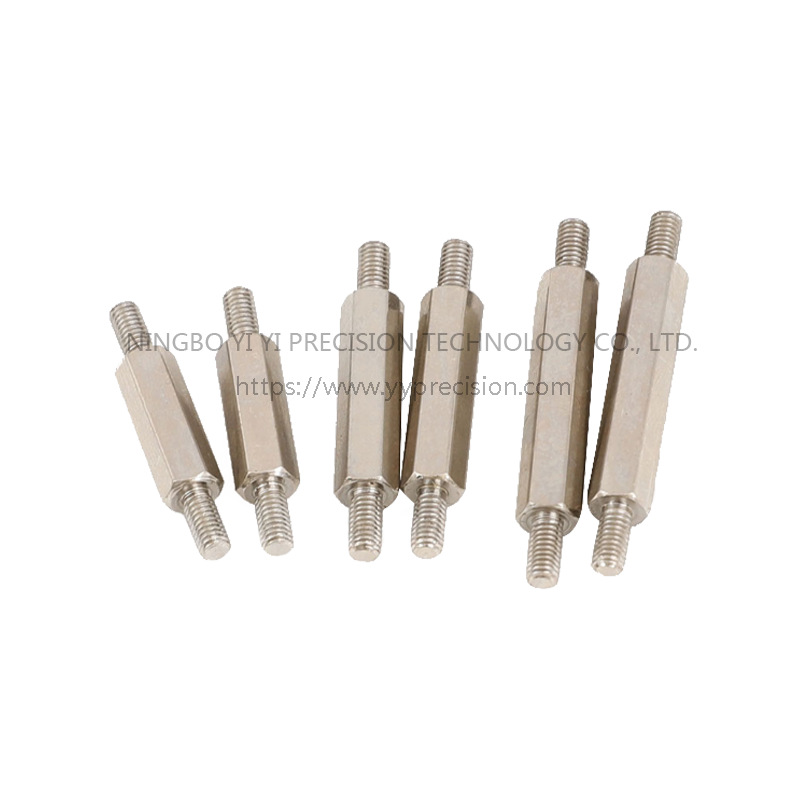 STAINLESS STEEL SPACER COLUMN
Stainless Steel Spacer Column, Stainless Steel Yin And Yang Screws, Stainless Steel Double Pass Studs